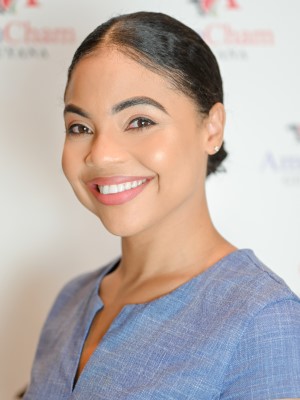 Iman Cummings is a communications, marketing, and corporate strategy, expert with experience in driving market entry and expansion of global brands into the Caribbean market. Born and raised in Georgetown, Guyana, Iman has a deep understanding of local market nuances. Iman is Co-founder and Chief Marketing Officer of Corum Restaurant Group Inc, Guyana's leading restaurant management company.
Prior to her role at Corum, Iman's work included consulting, capacity building, and training services in international development cooperation for a wide range of clients in the global NGO sector including the IOM, ILO, UNICEF, and IDRC. Iman has also led and co-authored research projects for leading academic institutions such as the University of Toronto's Women and Gender Studies department and the University of the West Indies. Iman has served on the board of the Georgetown Chamber of Commerce and is a founding member of the American Chamber of Commerce.
Iman is currently completing a Masters of Science in Communications at Columbia University in the City of New York. Iman also holds an MA in Political Science from Guelph University, Canada; and a BA double honours in Political Science and Latin American and Caribbean Studies from York University, Canada. Iman has published several academic works.