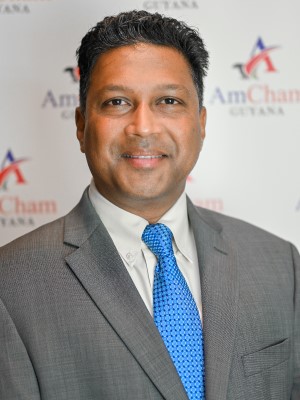 Vahman Jurai is Halliburton Guyana's Country Lead, in his previous role he was the Business Development Country Manager for Venezuela. Vahman joined Halliburton Trinidad in 1994 as a technical professional in the Cementing and Stimulation department. During his career, that spans close to 28 years in the Oil and Gas industry, he worked in various countries including Trinidad, Brazil, Venezuela, and Mexico.
Throughout that time he held several leadership roles in the areas of technology, operations, and business development. He led many strategic initiatives that had a significant positive impact on multiple business areas – cost optimization, aggressive revenue growth, and improving operational performance in various business units and countries.
Vahman holds a Bachelor of Science in Chemical Engineering and a Master of Science in Petroleum Engineering from the University of the West Indies. He is also a graduate of the Halliburton President's Leadership Excellence Program. He has several technical publications in the journals of the Society of Professional Engineers and other technical bodies.
Vahman believes in the simplicity of life, diligent work, and exploring the positive side of any complex situation. His motto is "focus and act on what is important, and success reveals itself".  Vahman truly enjoys sharing his knowledge and ideas and making a meaningful contribution to the teams he works with, the industry as a whole and the communities within which he operates.