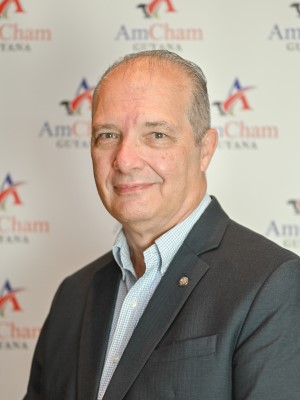 Veteran in hotel operations; results driven; focus on delivering on Top Line and Bottom Line. Focus on Guest Satisfaction ratings and Social Media; use the tool to correct operations to improve ratings. People person creates great connection with hosts and lead them by example. Have worked for many years with limited resources; have directed the team to excel on areas with control. "To be successful you need to have the right talented professionals in the right place; communicate, train, develop them and make them accountable".
He is the current General Manager of the Marriott Guyana. Whom achievements thus far, has improved the hotel financial performance by maximizing every revenue center capability, developed local talent by cross training sessions for his staff. He supported diversity and inclusion, improved service overall and guest experience, in turn improved owner return.
Mr Reple, was also a CHATA Board Member, whom supported the Hotel Association and Curaçao Tourism Board to develop tourism industry in the island during his service at Curaçao Marriott Beach Resort & Emerald Casino.
His boasts achievements in the financial ability to renovate the hotel asset and the property, which was without investment since 2008. During his working experience throughout his career, his objective was to operate the hotel in the best possible way. His achievements then, was being able to with limited resources; renovate the hotel, have guest overall satisfaction improved YOY 2.7 percentage points; Engagement Survey improved 2.0 YOY; P&L GOP was NAF 430K higher than the previous year.
He also worked at Renaissance Santo Domingo Jaragua Hotel & Casino. A landmark in Santo Domingo; the hotel was outdated and in need of a major renovation. Where he was tasked with, driving volume business to the hotel, while having the best service, the best cleaning program, a unique F&B
experience and great controls in place. He asssured execution of processes was carried according to company standards. Increased sales, REVPAR and at the same time kept the team motivated, the hotel clean with excellent service execution. Supported the sales strategy execution to drive volume.
"Heads in beds". Last Year REVPAR Index increased 19% over LY. Associate Engagement Survey improved 11 points in 2013 and 8 points in 2012.
Mr Reple, held the HOTEL ASSOC. SANTO DOMINGO Presidency for three(3) years , where he worked with government agencies, associations, SDQ Cluster, city hall and private sector to develop the awareness of the need to transform Santo Domingo into a tourist destination; the port of entry to Dominican Republic. He tasked with organizing events to generate funds for the association to be able to promote Santo Domingo city in other markets.
He further served as the CARIBBEAN BUSINESS COUNCIL Chair Person. He led a group of opportunities to leverage in Human Resources, explored social media, e-commerce, central purchasing opportunities, and created "Spirit to Serve our Community" events.
As the General Manager, of Costa do Sauípe Marriott Resort & SPA and Renaissance Costa do Sauípe Resort. He supported the launch of "Costa do Sauípe" as a tourist destination with ownership group into the local and international markets. Actively improved food & beverage experience and recreation activities towards guest preference with the objective to improve Guest Recommendation Index. Transformed the Renaissance resort into "All Inclusive" model to attract a new type of customers.
Leveraged both operations with one team and two brands.
Mr Reple hold numerous awards and have received a number of training over his career.
Market Share Excellence  – 2013
Spirit to Serve our Community  – 2008
Spirit to Serve our Guests – 2008
Sales Leadership Renaissance  – 2007
Spirit to Serve our Community – 2007
Leadership Award – 2007
Energy Conservation Award – 2007
• Hotels Branded Site Inspections Assessment  (2012)
• Breakthrough Leadership Training Certification (2011)
• Business Acumen (2003)
• Executive Orientation (2004)
• Challenge of Competition – Aspen Institute Education (2007)
• US Foreign Corrupt Practices Act (2009)
• Creating Marriott Leadership Culture (1997/2003)
• Partner in Career Management (2000)
• Positive Associate Relations(2000)
• Food Safety – ASI (2000)
• Seven Habits of Highly Effective People (1999)
• Stars are Born – Restaurant & Room Svc Hospitality (1999)
• Foundations of Leadership(1998)
• Total Quality Management (1998)
• Navigating Through Changes (1998)
• Creating a Marriott Leadership Culture (1998)
• Career Development Institute – Sales & Marketing. New York./ Washington DC.
• Cross Train – Vista Washington DC – Hilton International Rooms Division (1986)
• Career Development Institute – General Administration Hilton International, London,(1989)